Pokémon We Could Beat Up #7
This is Pokémon We Could Beat Up #7
This is a bi-weekly column from Chris and I where we go through the National Pokédex and talk about whether we could beat each pokémon in a fight.
---
031-035
Exciting slate of matchups today with two heavy hitters, let's see how this all plays out.
031. Nidoqueen
Height: 4'03"
Weight: 132.3 lbs
CHRIS: I pictured Nidoqueen being much bigger. I thought this would be a scary opponent. I still consider this loss. She is very large and strong. She always reminded me of a dinosaur kangaroo. I don't know if I am alone in this. The strength is what worries me the most. I do not think I can handle it. I will take my L.
STEVE: One of the largest opponents we have seen thus far and as far as stats are concerned this is a pretty fair matchup but that is where the fairness ends. Nidoqueen's body is encased in hard scales which shield it from most attacks, I'd tire myself before I could break through that shell. I predict I get crushed to death.
032. Nidoran♂
Height: 1'08"
Weight: 19.8 lbs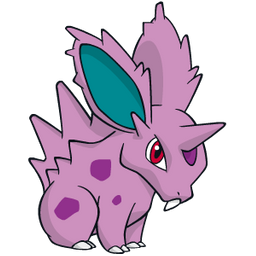 CHRIS: Very similar to its female counterpart. Not much of an issue.
STEVE: Same as last week except this time it's a male so I don't feel bad about hitting it.
033. Nidorino
Height: 2'11"
Weight: 43.0 lbs
CHRIS: He is a little honey, but as Steve said, I don't see there being much of an issue for me.
STEVE: Taller than its female counterpart but a little lighter in weight. That horn might be a little annoying but not a major issue.
034. Nidoking
Height: 4'07"
Weight: 136.7
CHRIS: Nidoking has always been one of my favorite Pokemon. He is so intimidating. He is a medium sized dinosaur. I do not see there being a chance for me.
STEVE: If I lose to a Nidoqueen what could I possibly do different against a Nidoking? Maybe he will do me a favor and put me out of my misery quickly.
035. Clefairy
Height: 2'00"
Weight: 16.5 lbs
CHRIS: I always hated this Pokemon. I feel like they try to make it out to be better than it is. It is supposed to be from the moon or something. I don't know. It stinks. I would have no issue beating this thing down.
STEVE: Clefairy is so cute oh my goodness just look at it. That doesn't chance the fact that one perfectly placed axe kick would send this thing into next week. Goodbye, Clefairy. It was nice knowing you.
---
STANDINGS
CHRIS: 3-2 as well. King and Queen are too strong for me. I bow down to their royalty.
STEVE: 3-2 on the day there is really nothing I can do against the big Nido's but the rest of today's matchups are fodder.
New fights every Monday and Friday 5:00 PM EST. Gotta beat em' all.